Today We are going to talk about Female Orgasmic Dysfunction.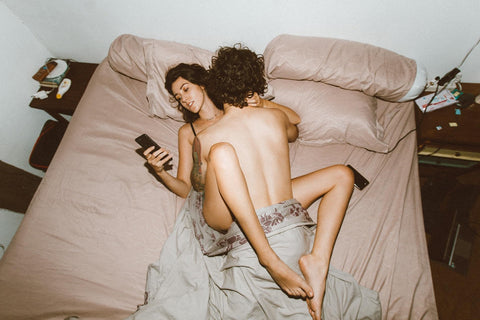 My friend told me that She has been married for few years but most time, even every time, she doesn't feel any stimulation during intercourse with her husband. Her vagina suppose be lubricated by cum when they just started to make love but few moment later, Her vagina tending to desiccate. It's such suffering, She is strongly anxious for experiencing a fully orgasm as well, like a porn girl in movie.
   Another friend asked me that She was stimulated and have a orgasm when she masturbate or her husband fondle her clitoris but she can not have a vagina orgasm during intercourse.
   They started to self-doubt, they question themselves: "Am I a mature women? I can't enjoy orgasm during make love forever. "
   I'm deeply understand their feeling and I do not want this kind of unfortunate happened to these girls.There are some researches shows that most women are not able to reach orgasm during intercourse, such a pity!
   I have to clarify a question about orgasm is that we can't

strictly

 classify orgasm.

So-call clitoris orgasm, vagina orgasm, and even nipple orgasm, earlobe orgasm, in other words the female orgasm shape is full of variety, but actually all these orgasms original from clitoris

.
   There is no sensory nerve ending in vagina, the reason why the vagina intercourse and touching clitoris is totally different feeling, It's because the clitoris itself is not just as big as a bean, and the area around the vagina is also part of the clitoris.
   Let's try to use the human body as a metaphor for the clitoris.
   The clitoral bean is the head of the person, the torso of the person is the torso of the clitoris, and the legs of the person are the feet of the clitoris
.
The feet of the clitoris are around the vagina, so we stimulate the feet of the clitoris by impact when we have vaginal sex, It's different feelings compared to fondling the head of the clitoris
. If we take out the clitoris completely, women will not have any sexual feelings.
Therefore
, the clitoris has no other function, only the function of giving women a sense of sex.
   By contrast, the orgasm
is divided
into clitoral orgasm and vaginal orgasm, which is too unfair for the clitoris
.
   In fact, those women who

easily

reach orgasm during sexual intercourse, their clitoris is usually the distance between the clitoris and the vagina is

relatively

short, and the sensitivity of the feet of the vagina of these women is more sensitive

.

Therefore

, during vaginal sex, the feet of the vagina are sensitive and the whole vagina

is excited

together

. In this case, women are more likely to orgasm.
   

Women who have never had an orgasm during intercourse, usually the feet of the vagina are not very sensitive, and the distance between the head and the feet of the vagina is

relatively

far

.
   So, what to do?
 Actually, This is not difficult. We can adjust
the position of sexual intercourse
and
the angle of sex
to solve this problem.
However
, some people still say, No!
We changed all positions, front, back, top, and bottom, all tried, but still couldn't achieve orgasm
.
That's not the case.
There are so many postures that you can have sexual intercourse far beyond your imagination
.
Some women masturbate not to stimulate the clitoris with their hands, but to clamp their legs. Most of the way we have sex is with legs apart. Can you imagine that women who have an orgasm like this during sex can get an orgasm? Everyone's body structure is different, and their sensitive points are also different. Women do not only have to separate their legs during intercourse. Abandon these things that imprison our ideas, try more postures, and learn more about sex.
   Of course, the above analysis
is based
on the different body structure of each person. It is not only the body structure that affects the orgasm disorder. There are also some physical functions and psychological factors.
From the physical function:
   Physical illness, fatigue, alcoholism, and decline in physical function due to aging can all lead to orgasm disorder
.
Especially in women after menopause, the vaginal mucosa
gradually
shrinks, and the secretion decreases
. It is easy to cause vaginal pain during sexual intercourse, thereby inhibiting orgasm.
From the psychological factor:
   Generally, it is far more difficult for women to get an orgasm than for men. Sometimes the more a woman
is worried
that she will not reach an orgasm, the less likely she is to have an orgasm.
From a psychological point of view, women must not only have a deep emotional foundation with men, but also have a pleasant mood and a quiet environment at the time
. If the above conditions are absent, it is easy to cause lack of orgasm.
Shyness, anxiety, tension, depression, and traumatic sexual experiences (improper sexual experiences in childhood or adolescence), unharmonious relationships between husband and wife, overwork, and stress can all lead to orgasm disorders
.
   In any case, you must first
clearly
understand what causes your orgasm disorder, so that you can communicate with your doctor
reasonably
and get a solution for your speedy recovery based on your physical condition
.
   In the end, I hope you all have a pleasant night every day.